I'll spare your shoe if you give me a Nylabone chew!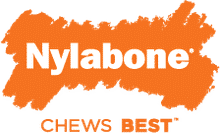 Flying M Feed & Pet Grocery is proud to carry Nylabone in Houston, Texas. Since 1955, Nylabone has been making the world's best chew toys, long-lasting edible chews, and dental solutions for dogs of every age, breed, shape, and size. As a family-founded company with a heritage of knowledge and expertise as the world's largest pet-book publisher—and as pet parents ourselves—we know that every dog is different, and so are their needs. That is why we make a wide variety of chewing solutions in flavors, shapes, sizes, and textures for every kind of dog and chewing strength.
Dog Product
Advanced Oral Care Dog Dental Kit
Advanced Oral Care Dental Wipes
Advanced Oral Care Heart Dental Treats
Advanced Oral Care Finger Brush
Advanced Oral Care Natural Dog Dental Kit
Advanced Oral Care Natural Fresh Spray
Come see why our Family-Owned store was named America's Coolest Pet Store and Pet Retailer of the Year!