Whole food nutrition never tasted so good!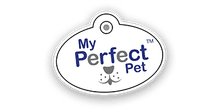 Flying M Feed & Pet Grocery is proud to carry My Perfect Pet in Houston, Texas. Our beautiful Hunter was our wake-up call to what was really in the food we were feeding our pets. He became suddenly ill late 2006, and within weeks of his passing the headlines announced the largest pet food recall in history.
Dogs Product
Knight's Beef Grain Free Blend
Buckaroo Chicken & Beef Blend
Roxy's Lamb & Beef Grain Free Blend
Boomer's Chicken & Beef Blend
Hunter's Turkey & Wild Salmon Grain Free Blend
Snuggles Chicken & Rice Blend
Specialty Blend Dog Food
Potato-free, Grain-free Blends
Low Phosphorus Lamb & Rice Blend
Cats Products
Bengal's Beef Carnivore Grain Free Blend
Toby's Turkey Carnivore Grain Free Blend
Specialty Blend Cat Food
Low Phosphorus Chicken Carnivore Grain Free Blend
Come see why our Family-Owned store was named America's Coolest Pet Store and Pet Retailer of the Year!